5 Predictions for the Next 5 Years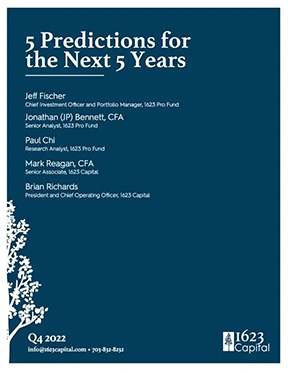 At the tail end of 2022—a very turbulent year in markets—the 1623 Capital team assessed what they think could be in store by 2027. (Q4 2022)
Investing is inherently an act of prediction—you're making choices today based on expected outcomes (or probabilities of expected outcomes) in the future.
As the turbulent market of 2022 wound to a close, the 1623 Capital team set down to make five predictions for the next five years.
Energy underinvestment will cause a second surge in inflation
Big-cap tech will resume their outperformance
With an assist from the taxman, online sports betting will exceed what are already lofty growth expectations
The 2022 bear market will bottom before the recession ends
Earnings and dividends will matter much more than multiple expansion
We offer them up as humbly as possible—we very well might be dead wrong on any or all of these. But that's part of the fun.
You can download your PDF copy of "5 Predictions for the Next 5 Years" (free of charge) by simply entering your information in the nearby box.