Dissecting the Great Growth Stock Drawdown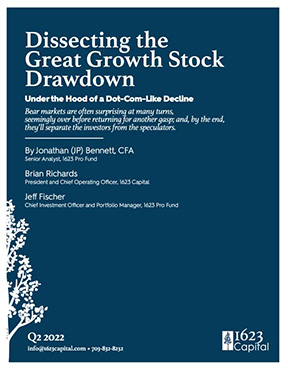 The Nasdaq lost a third of its value in 2022, but we examine which characteristics—sector, market cap, and valuation—foretold the stocks with the largest declines. (Q2 2022)
In "Dissecting the Great Growth Stock Drawdown: Under the Hood of a Dot-Com-Like Decline," our team examined the Nasdaq decline from 2021-2022 to try to better understand the dynamics at play.
We found some interesting relationships in the data set—for example, the higher the P/S at the start of the measurement period, the worse the return—as well as other data points that might be surprising (e.g., how unloved health care, a sector traditionally thought of as defensive, was).
To download your PDF copy (free of charge), simply enter your information in the adjacent box!